Feb 4, 2014, 8:12am EST
On Sales-on-mid-week-nc-fares.html?s=image_gallery">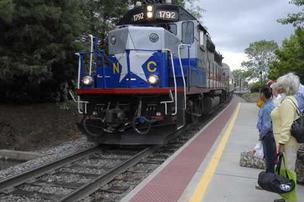 Rebecca Troyer, Triangle Business Journal
Amtrak is offering a 15 percent discount on one-way fares for North Carolina passengers traveling on Tuesdays, Wednesdays and Thursdays through March 27, according to an announcement by the N.C. Department of Transportation.
The discount applies to the Palmetto, Piedmont, Crescent, Silver Meteor, Silver Star and Carolinian routes. The Piedmont route connects Charlotte to Raleigh, while the Carolinian route takes riders from here to New York. Ridership on both routes has been growing.
Reservations must be made at least one day in advance.
To make a reservation, go to ncbytrain.org.